The first model in the range is theB2310K which meets the demands of both small producers and hobby farmers.
Equipped with a 3 cylinder 1218 cc Stage V engine and EPA T4, which provides 23hp, the B2310K features a 26 - litre fuel tank, delivering longer periods between needing to refill with fuel. This 4WD tractor is equipped with a mechanical, constant mesh transmission, consisting of 9 forward gears and 3 reverse gears, enabling enhanced precision and adaptation as demanded for each job. The ergonomic design of its controls allows users to change gear with ease.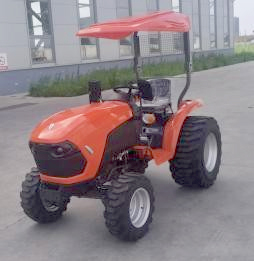 In addition, the B2310K offers surprising performance generated by hydraulic power steering and a hydraulic pump of 25 l/min. These hydraulic power systems deliver higher levels of loader reactivity and increase rear lifting capacity to 750kg. This is sold as standard with a hydraulic double acting valve and 2 PTO speeds: 540 and 980.
The flat platform and wide operator station provides a functional and well-designed layout, this allows for a more comfortable drive. The road lights are characterised by modern LED technology. Finally, the product comes with a toolbox for easy daily maintenance.
The B2310K is the only tractor within its market which offers both position & draft control. This last feature gives operators the ability to make pulling work easier without incurring any additional costs. With its excellent quality - price ratio, the purchase of this new tractor becomes possible for every budget.
This tractor is available with 3 tyre options, for different applications:
1. Agricultural tyres.
2. Turf tyres.
3. Industrial tyres.
This model has been designed with a customer - centered approach, and a high strength aluminum profile heater cabin is optional.
LAND X also offer original front end loader for this tractor.
---
Post time: Aug-17-2022